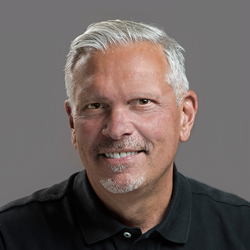 Steve Kuper
President
Steve Kuper believes in living your passion and choosing your attitude! As President of Innovative Learning Strategies, LLC, (ILS) Steve does both on a daily basis! If you've ever experienced one of his training sessions, you know Steve fuses creativity, innovation, fun, interaction and practicality to directly impact performance in the workplace.
Steve has more than 35 years of keynote, training and consulting experience, including nine years in the corporate training department of United Airlines in Chicago where he designed and facilitated its Onboard Service Division's Initial Training Program in diversity, conflict management, communication skills, corporate culture and other leadership skills.
Steve is called on to work with leaders at various levels of organizations to increase their effectiveness with their respective teams. He serves as an executive coach to CEO's and other high-level executives in a variety of industries as well as a coach to first line and mid-level managers. Using the suite of 360 Feedback Assessments from The Center for Creative Leadership, Steve appreciates the power of feedback in professional development.
At ILS, Steve and his teamwork with organizations seeking to capitalize on the assets of their people and determine how those assets can be leveraged to create a competitive edge in the marketplace. The process begins as he partners with a corporation to examine their organizational culture. He helps them clarify their mission, vision and values and align their culture with their beliefs. The ultimate objective is to maximize employee engagement and retain great talent.
The ILS' client roster includes: United Airlines, US Venture, AGC (Associated General Contractors of WI), AIA, The Andis Company, Big Brothers Big Sisters of the Fox Cities, ADI-Appleton Downtown Inc. Bader Philanthropies, JJ Keller Foundation, Bassett Mechanical, Catalpa Health, Habitat for Humanity-Fox Valley, Hoffman, Partnership Community Health Center, North American Mechanical Contractors, Madison, WI; NAMI of the Fox Valley, Riverview Gardens, SCA: The Americas and Europe, Staab Construction, Fox Cities Chamber of Commerce, and Urban Evolutions. In addition, Steve has co-facilitated SILE (The Social Innovation Leadership Experience) in conjunction with Marquette University, as well as SI: Sustainability and Impact Project for Bader Philanthropies, Milwaukee.
Steve has served on the advisory board for The U.S. Venture/J. J. Keller Foundation Basic Needs Giving Partnership, the William and Barb Schmidt Family Foundation and The Harbor House Board of Directors, an organization providing programs and housing for domestic abuse and other violence issues. Steve has been a contributor to The Pfeiffer Annuals.