Culture – Transformation to Excellence
Organizational Culture Change
Effective corporate cultures have several traits. They are marked by high levels of employee productivity, creativity and commitment. These in turn drive increased quality, innovation and profitability. Ideally, all leaders strive to develop cultures that generate these beneficial results.
But dynamic cultures don't just emerge by themselves. They must be actively forged by the people charged with ensuring a company's strategic and financial success. [1]
Our Approach
Healthy corporate cultures rely on the synergistic strength that comes from engagement, inclusion and alignment.
Using our Transformation to Excellence model as a blueprint, ILS works with the contracted organization to design, develop and execute four stages of the cultural transformation process.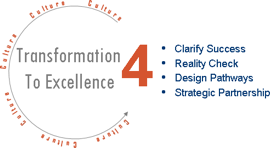 During Stage One, Clarify Success, ILS facilitates a one day off site with the organization's Senior Leadership Team to examine their current Mission, Vision and Values of the organization. In addition, we identify those components of the culture that we want to focus on changing as a result of this work. This information becomes the foundation of the culture work moving forward, and will determine what will be measured during Stage Two of the project.
A Reality Check marks the launch of Stage Two. This assessment process is multifaceted using interviews, focus groups and a company-wide employee engagement survey to measure the perceptions and attitudes of employees. In addition, we look at exit interviews to gain an understanding of employee turn over.
Stage Three's focus is on Designing Pathways. ILS uses a process known as a Design Jam whereby we create a culture strategy for the client. It is our experience that organizational change requires not only the careful "analysis" of information (Internal Reality results) but more importantly a strategy to execute the desired change within all areas of the organization.
"Change is hard because people overestimate the value of what they have – and underestimate the value of what they may gain by giving that up."

James Belasco and Ralph Stayer
Flight of the Buffalo (1994)
During this stage, ILS in partnership with the organization's leadership team forms a team of "key influencers" from throughout the organization who are charged with the responsibility of being culture change agents. As change agents, they are active participants in benchmarking sessions, the Design Jam, and feedback sessions to determine the progress made in the journey toward cultural excellence.
As we launch Stage Four, Strategic Partnership, ILS partners with the organization's leadership as well as the "change agent team" to move the strategic design forward, implementing the changes deemed necessary to bring about the desired organizational culture. Included in Stage Four are sessions with all system-wide leaders to communicate the Employee Engagement Survey results and educate them on how they can drive change at their level in the company using a systematic action planning process.
These stages are designed to create an organization-wide transformation that increases employee awareness, ownership, accountability and a desire to succeed at the highest level. The design is intended to engage and inspire all levels and segments of the organization as well as prepare them for the cultural transformation.
References
Growing Concerns; Managing Corporate Culture for Strategic Success