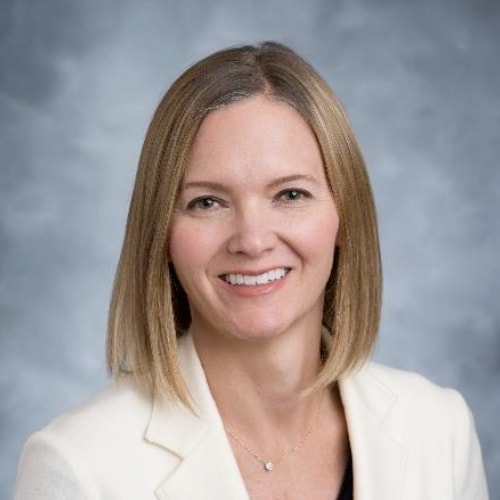 Jessica Kral
Jessica Kral has a unique skill for helping people to identify their untapped potential, leverage their strengths, do their best work and maximize results. She has 25 years of experience at Fortune 100 companies and 8+ years as a C-level executive. She has led diverse, global teams of 500+ and has over 20 years of people leadership experience.
As an executive coach, Jessica challenges her clients to make change because she believes coaching is about getting results. She also believes results comes from behaviors, behaviors come from your thinking and your thinking comes
from who you are. Therefore, her coaching focuses on the WHO instead of the what. When clients have insights that change their thinking, it changes them at a deep level and can have a profound impact on their professional and personal lives.
She specializes in transition coaching for executive clients moving or preparing to move into new roles, onboarding coaching for those moving into new companies and emotional intelligence coaching for clients who want to improve the skills which will increase employee engagement and retain talent.
Jessica's 25 years of business leadership roles bring distinctive insights and credibility to her coaching. She understands what it's like to be an executive with high levels of personal and professional expectations because she's living it every day. Jessica is currently a senior vice president at a Fortune 10 company where she has held various leadership roles for over 16 years.
Jessica received her first coaching certification in 2016 and is actively completing the International Coach Federation requirements for a Professional Certified Coach at The University of Texas at Dallas. She has undergraduate degrees in Marketing and Business Finance from The University of Wisconsin – Eau Claire.
She is a certified facilitator of Senn Delaney's culture shaping methodology, a certified facilitator (inactive) of The Trust Edge, certified in TalentTelligent's Common Language of Leadership and a longtime volunteer mentor for Menttium.
Jessica lives in Minneapolis, Minnesota. Her modern family includes two teenage daughters, two adult stepchildren, two rescue dogs and one amazing husband. She loves reading, trying new restaurants, cooking, travel, and Formula 1 racing.