Team – Facilitated Sessions – Leadership Excellence
Building a Functionally Fit Team
Encouraging individuals to work together and be productive in the workplace should be a relatively easy task. However, all too often, we find people function as a "group" of individuals, but never make the final leap to become a true team.
When ILS partners with an organization, we begin the process by conducting an Internal Reality Assessment, which includes interviewing team members and conducting focus groups to gauge team climate. The data we collect allows us to identify critical team issues. We then design and implement a two day off-site where we "dive deep" into the issues that have been identified as critical and thus begin to deal with the identified dysfunction. As is deemed necessary, follow-up sessions from the off-site are conducted six to nine months afterwards to make sure the team is practicing the new behaviors that have been taught.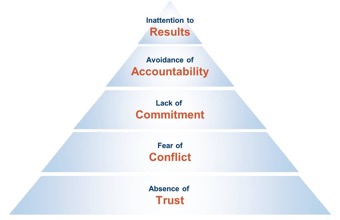 The Five Dysfunctions of a Team by Lencioni, serves as a working model in our sessions. We explore team issues such as trust, conflict, commitment, accountability and results. We identify the ways these issues interconnect and then work through them in a systematic manner.
We also identify various team roles and leadership challenges along with the strengths and weaknesses of team members. Finally, we look at strategies for both problem solving and conflict management. At the conclusion of the session(s), the team departs with "working agreements" on how participants will interact and engage each other on the team.
The results of the work accomplished directly impacts the team's effectiveness (among themselves) as well as the effectiveness of the larger organization.
"In the course of my experience working with CEOs and their teams, two critical truths have become clear to me. First, genuine teamwork in most organizations remains as elusive as it has ever been. Second, organizations fail to achieve teamwork because they unknowingly fall prey to five natural but dangerous pitfalls."

Patrick Lencioni
Facilitated Sessions – Breakthrough Facilitation & Mediation
In business, individuals with diverse opinions, positions, experiences and talents often come together to accomplish specific goals. Whether in the form of a committee, a focus group, a business unit, a board of directors, or a team, the purpose is the same…make great decisions.
However, great decisions come from synergistic groups…from teams that interact in a highly effective manner. When a group doesn't connect, frustration and competition often get in the way of success. A third party can bring the group's strengths into focus and help facilitate the team to a win-win solution.
ILS offers an extensively trained team of professional facilitators. From the simple task of keeping a group focused on an objective to the more complex challenge of orchestrating collaborative decision-making, the ILS team gets profound results.
Our facilitators:
Cultivate unity
Listen to understand
Ask critical, thought-provoking questions
Introduce problem-solving techniques
Encourage varied points of view
Reach consensus
Create SMART action plans
Implement solutions
Propel teams forward